5 Reasons Why Jazz will be in Playoffs

Posted by Broox Anderson
RICHFIELD, UT — 7:40 a.m. — Ahhh … the Utah Jazz. The monolithic symbol of pride and glory in a pride-and-glory-less state. The single, withstanding epitome of consistency in the face of an inconsistent society. You can't have "Utah" without "Jazz", and, likewise, "Jazz" fits with none but "Utah." Yes, even New Orleans.
As a longtime Jazz-fan, I've seen the ups-and-downs of every season, every game, year by year. But, never, in all my Jazz wisdom, have I witnessed this great franchise falter and miss the playoffs. It is simply unfathomable. The Jazz being the playoffs is as consistent as night and day.
Five reasons the Utah Jazz will be in the Playoffs in 2011-12:
1. The Rookies/Sophomores
Derrick Favors (right), Gordon Hayward, Enes Kanter, and Alec Burks make up Utah's strong youth movement.
That is four top-12 draft lottery picks, each at a different position on the floor.
What a striking thought, to have a franchise player on the wing (Burks), both forward positions (Hayward, Favors), and a finesse-and-power center (Kanter) to tie it all together.
They simply lack that elusive, elite point guard. Although, I guess we'll have to wait and see whether Burks develops into a slashing 2-guard or a fearsome point guard.
The Jazz's Rookies/Sophomores will help their team reach the playoffs, because, for the first time in a long time, they have youth, length, and athleticism to boot. No more should we fear the likes of the Lakers or Mavericks.
2. The Veterans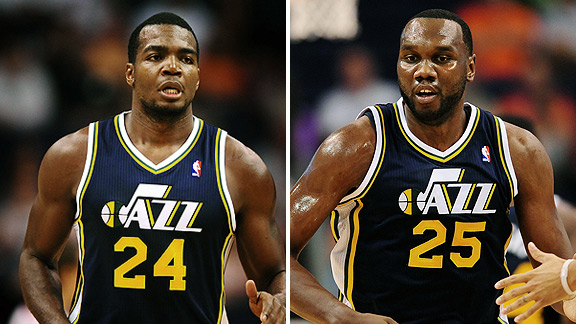 Whether or not Kevin O'Connor decides to trade one of our big men down low, or even Devin Harris, as of right now we still have our veterans; consisting of Paul Millsap, Al Jefferson, Devin Harris, Mehmet Okur, Andrei Kirilenko, and others.
Jefferson and Millsap are a dominant pair as any on the block, but they are immensely undersized.
Devin Harris isn't an elite point guard, but he's a more-than-serviceable player at his position.
Still, the leadership and experience of Utah's vets will help in the effort to return to the playoffs.
3. Ty Corbin
That picture mostly sums up Ty's experience with the Utah Jazz last season, when longtime head coach Jerry Sloan decided to resign in mid-February.
He experienced hard losses, aggravating victories, and, nonetheless, a few flashes from the team that showed promise.
I don't believe anyone can blame Corbin for his team's failures at the end of last season; moreover, I highly doubt anyone could have guided the Jazz back to the playoffs after losing an all-star point guard and their beloved coach.
But, with optimism I can safely say that Tyrone Corbin will come back with tweaks to the offense, a defensive mindset, and an altogether fresh, new outlook for his team.
The Utah Jazz will be better because of it, and I can't wait to see the new offense/defense schemes Ty Corbin puts in place.
4. Coaching Staff
With news of Ty Corbin adding Sidney Lowe as an assistant coach over the summer, he finally completed his coaching staff.
Utah has a great group of guys behind their talented players, and winning is an irrevocable priority for Corbin, Layden, Hornacek, and Lowe.
Without the compilation of talented coaching minds behind the Jazz, they would go absolutely nowhere; and, of course that's why their entire coaching staff, along with medical staff and other employees, are an integral part of pushing the Jazz to be better and lifting them upon their shoulders in an effort to reach contention.
5. C.J. Miles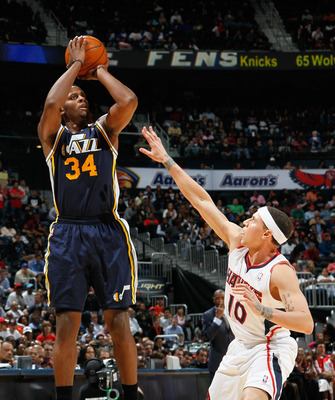 Look confused if you want, but C.J. Miles will be a huge part of Utah's success in the regular season and thereafter. C.J.'s been in the league for six years now, and it's about time he had a breakout season!
The 6'6″ guard-forward averaged 12.8 points for Utah in 2010-11. Entering his seventh year in the league, he's only 24-years-old.
Miles will be a strong leader on the floor and in the locker room in 2011-12, as well as a go-to player in clutch situations.
I look forward to seeing C.J. in action, and can't wait for the 2011-12 season to start!

______________________________________________________________________________
Broox Anderson

Lead Editor/Writer
Purple and Blues | A Utah Jazz Site
Twitter: @BrooxAnderson
Facebook: Purple and Blues
Email: [email protected]
______________________________________________________________________________
Tags: Al Association Basketball Butler Cj Finals Gordon Hayward Jazz Jefferson Lakers Miles Millsap NBA Off Offs Paul Play Playoff Playoffs Utah