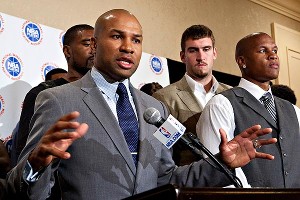 After three full days of negotiations, the NBA and its players are no closer to a deal than they were on July 1st, the first day of the lockout.
Deputy Commissioner Adam Silver stated that the owners would be ready to make a deal the instant the players agreed on a 50/50 split of BRI (Basketball Related Income). Following that statement, Derek Fisher claimed that Silver was "lying", telling the conjoined press that they had all just "been lied to".
Can we still hope for a 2011-12 season? Even a few measly weeks? At this point, hope is looking collectively lost.
Stay tuned to Purple and Blues for the latest on the lockout, the NBA, and all things Utah Jazz!
______________________________________________________________________________
Broox Anderson

Lead Editor/Writer
Purple and Blues | A Utah Jazz Site
Twitter: @BrooxAnderson
Email: [email protected]
Tags: Adam Anthony Association Basketball Cohen Commissioner Derek ESPN Fisher George Greg Jazz Lockout NBA Nbatv Nbpa Owners Plantation Players Silver Tv Utah Utah Jazz